Na polskim i światowym rynku dostępnych jest wiele typów i rodzajów paneli słonecznych. Począwszy od małych modułów 5W – 160W dedykowanych do systemów z akumulatorami żelowymi oraz mocniejsze o mocy powyżej 280W i więcej przeznaczone do elektrowni słonecznych podłączonych do sieci energetycznej ale również do systemów akumulatorowych. Oczywiście panele te dzielą się na konstrukcje polikrystaliczne oraz monokrystaliczne jednak nie nad tym dzisiaj będziemy debatować. Panele słoneczne o ile posiadamy ich więcej niż jeden można łączyć ze sobą szeregowo oraz równolegle. Która metoda jest lepsze i bardziej wydajna, po co łączyć ze sobą panele słoneczne w ten sposób. Na te i inne pytania postaramy się odpowiedzieć w naszym artykule.

Łączenie paneli słonecznych szeregowo.
Każdy panel słoneczny posiada dwa najważniejsze parametry, napięcie wyrażone w Voltach [V] oraz prąd wyrażony w Amperach [A]. Wynik ich iloczynu daje nam moc wyrażoną w Wato Pikach [Wp]. W sytuacji gdy łączymy panele słoneczne szeregowo a więc kilka paneli łączymy jeden z drugim plus do minusa pozostają nam na skrajnych końcach dwa przewody plusowy oraz minusowy. Przy tak połączonych modułach fotowoltaicznych ich napięcie wzrośnie poprzez iloczyn Voltów jednego panela słonecznego z ilością paneli  połączonych w jeden szereg. Prąd w dalszym ciągu pozostanie taki sam a moc wyrażona w Watach będzie tak jak napięcie iloczynem mocy jednego modułu fotowoltaicznego z ich ilością.
Po co łączyć panele słoneczne szeregowo?
Po co łączymy panele słoneczne szeregowo. Po pierwsze aby podnieść napięcie. Poprzez podnoszenie napięcia układ zyskuje na sprawności. Podobny przykład można znaleźć w energetyce. Podnoszenie napięcia na liniach wysokiego napięcia nawet do 100 tys Voltów umożliwia przesył energii na duże odległości z minimalnymi stratami używając do tego jednocześnie względnie niedużych przewodów. Oczywiście tutaj posiadamy napięcie zmienne a w panelach napięcie stałe, jednak pojęcie mocy dla obu systemów jest takie same..
Z wysokiego napięcia paneli słonecznych korzystają przydomowe elektrownie słoneczne. W zależności od zastosowanego falownika napięcie może wynosić od 180V do 900V. Zmiana napięcia wysokiego na napięcie niższe w tym wypadku 230V prądu przemiennego odbywa się z dużo większa sprawnością i przy mniejszych stratach.
Wysokie napięcie to również lepsza praca układu śledzenia mocy paneli słonecznych MPPT. Falowniki sieciowe sprawdzają na bieżąco w którym punkcie o danej porze dnia i nasłonecznienia jest najwyższe napięcie i prąd na ciągu paneli. Dzięki temu znacząco optymalizuję prace całej elektrowni słonecznej.
Łączenie szeregowe paneli słonecznych znajduje również zastosowanie przy systemach fotowoltaicznych wyposażonych w akumulatory. W tym jednak przypadku rzadko kiedy do sytuacji gdzie panele słoneczne połączone są w większej ilości niż 4. Zaletą takie systemu jest fakt, że układ MPPT nie zwiera napięcia paneli słonecznych do napięcia akumulatora przez co nie ogranicza w żaden sposób mocy paneli słonecznych. Tradycyjne układy PWM mogą ograniczać  moc paneli nawet o 40%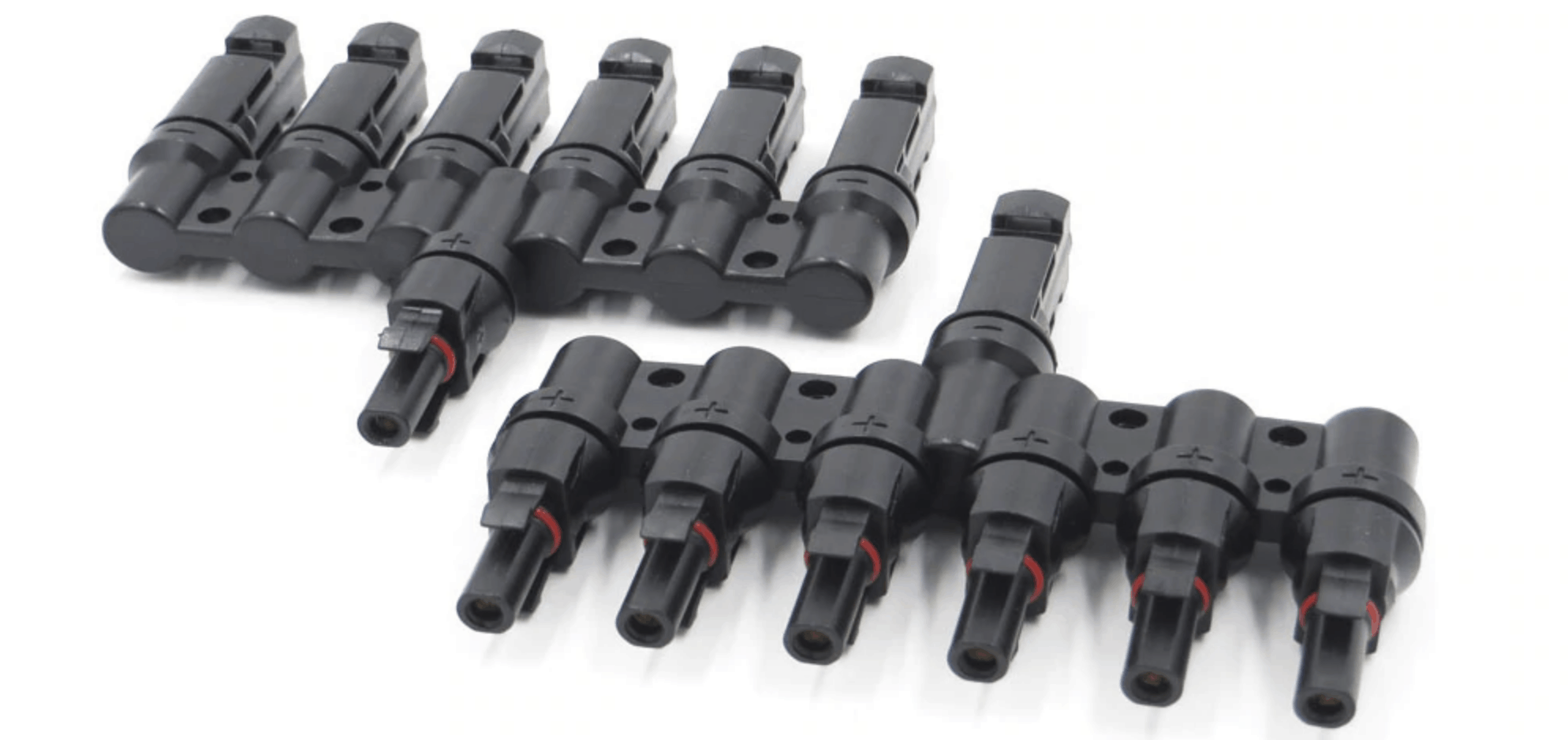 Łączenie paneli słonecznych równolegle.
Równoległe połączenie paneli słonecznych odbywa się poprzez połączenie ze sobą wszystkich przewodów na zasadzie plusy z plusami minusy z minusami. Takie połączenie nie powoduje wzrostu napięcia a jedynie prądu. Moc tak jak w połączeniu szeregowym jest iloczynem mocy jednego modułu fotowoltaicznego względem ich ilości w połączonym układzie.
Połączenie równoległe podnosi prąd wyrażony w Amperach. W takiej sytuacji należy mieć na uwadze, że ogólna sprawność układu maleje i należy zastosować odpowiednio grube przewody a zarazem jak najkrótsze aby uniknąć strat podczas przesyłania energii. Dobrym przykładem może tu być przetwornica napięcia o dużej mocy. Posiada zawsze grube okablowanie takie jak palec o długości max 50-60 cm.
Po co łączyć panele słoneczne równolegle?
Połączenie równoległe wykonujemy przeważnie w sytuacji gdy nasz regulator ładowania pracuje w systemie PWM a więc zawiera napięcie paneli słonecznych do napięcia akumulatora. W takiej sytuacji nie możemy przekraczać napięcia 30V lub 50V dla układów 24V i zmuszeni jesteśmy do łączenia paneli równolegle. Zdarza się to również w elektrowniach słonecznych gdzie występuje duża ilość paneli a napięcie przekracza ponad 1000V. Należy jednak pamiętać, że łączenie równoległe paneli słonecznych zawsze prowadzi do zmniejszenia ich sprawności i dużych spadkach na przesyle energii. Dlatego też w miarę możliwości technicznych i finansowych warto sięgać po układy MPPT które nie ograniczają mocy paneli słonecznych.
Czy można połączyć szeregowo dwa różne panele słoneczne ?
Teoretycznie i praktycznie tak jednak nie zaleca się takiej konfiguracji. Na uwadze trzeba mieć fakt, że po połączeniu dwóch różnych paneli słonecznych jeden o mocy 300W a drugi o mocy 320W obydwa będą pracowały z taka mocą jak panel najsłabszy. Jest to jednak o wiele lepsze rozwiązanie niż użycie regulatora ładowania PWM, który w znaczącym stopniu ogranicza moc modułów fotowoltaicznych w zależności od napięcia akumulatora. Przy połączeniu dwóch paneli słonecznych różnych mocy należy zadbać aby napięcie pracy w punkcie mocy było zbliżone. Dla małych paneli do 180W 18V, dla dużych paneli słonecznych ok 32-36V w zależności oo modelu i mocy.
Czy można połączyć równolegle dwa różne panele słoneczne ?
Tak i o ile zadbamy o podobne napięcie w punkcie mocy możliwe jest łączenie paneli słonecznych o różnych mocach. W takim połączeniu suma prądów wyrażona w amperach [A] będzie się sumować. Należy jednak wykorzystać regulator ładowania PWM gdyż regulator MPPT obniży moc stringu* do mocy najsłabszego modułu co może prowadzić do jeszcze większych strat niż straty wynikające z ograniczeń układu PWM
* Stringiem nazywamy panele słoneczne dwa lub więcej połączone szeregowo.